Amy Roberts and Gamal Khamis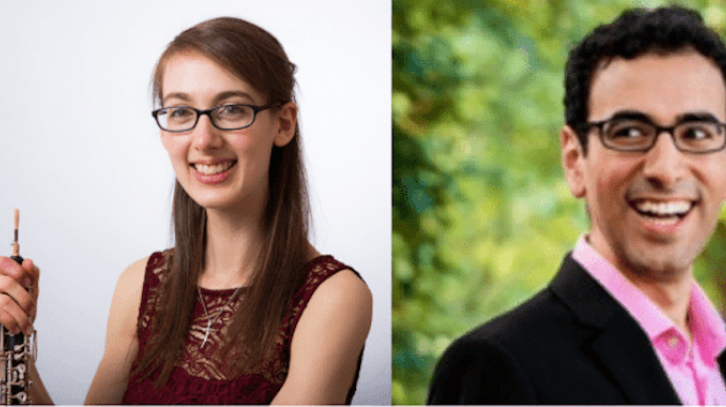 Date: 10 Nov 2021 Place: Howgills, Letchworth Time: 7.45pm
Amy Roberts is a British oboist with a rich and varied career. She is in demand as a soloist and chamber musician having become a 2019 PDGYA award winner with "Making Music", recorded the Villa Lobos Concerto Grosso and performed concertos by Albinoni, Bach, Haydn, Mozart, Martinu and MacMillan.She regularly performs with orchestras such as the London Philharmonic Orchestra, BBC National Orchestra of Wales, City of Birmingham Symphony Orchestra, Royal Philharmonic Orchestra, Royal Scottish National Orchestra and more.
Amy also enjoys making music on historical oboes and has played with groups including the Orchestra of the Age of Enlightenment, Academy of Ancient Music, Dunedin Consort, and English Concert. She is a founding member of the wind quintet Moriarty Winds and performs solo recitals with duo partner, Gamal Khamis. 2017 saw her win 2 prizes in the semi-final of the International Barbirolli Oboe Competition, and she was a Making Music 'Philip and Dorothy Green Young Artist' Award Winner for 2019.
When not performing, Amy is a dedicated teacher at Wetherby Senior School. She also teaches students of all ages and particularly enjoys helping adults come back to the oboe after time away, or to take up the challenge of the oboe from scratch!
Gamal completed his formal musical education at the Royal College of Music, where he studied with Niel Immelman, Simon Lepper, Ashley Wass and Andrew Ball. He first performed at the Wigmore Hall at the age of ten, and has since appeared at the Queen Elizabeth Hall, Purcell Room, Cadogan Hall, Sage Gateshead, Oxford Lieder Festival, Buxton Festival and Chipping Campden Festival, among many others. He has participated in festivals in Canada, Denmark, France, Greece, Italy, The Netherlands, Sweden, Switzerland and the USA and toured Australia and New Zealand.
Gamal has won major prizes at the Norah Sande, ESO Young Soloist and Christopher Duke piano competitions, as well the Collaborative Piano Prize at the 2017 ROSL competition and the Help Musicians UK Accompanist's Prize at the 2017 Ferrier Awards. He has performed concertos by Mozart, Beethoven, Grieg, Fauré, Saint-Saëns, Rachmaninoff, Stravinsky and Finzi, with the University of London Symphony Orchestra, the Richmond Orchestra, Guildford Symphony Orchestra, and many other UK orchestras. His playing has also been broadcast many times on BBC Radio 3, BBC Radio 4 and European radio, as well as Danish and Arabic television.
Programme:
Grovlez Sarabande et Allegro
Thea Musgrave Dawn
Thea Musgrave Whirlwind
Debussy Preludes Book 1: Ce qu'a vu le vent d'ouest
Poulenc Sonata for Oboe and Piano, FP185
INTERVAL
Messiaen Vocalise 
Handel Sonata for oboe in C minor, HWV 366
Bach Adagio, BWV 874
Saint-Saëns Oboe Sonata, Op. 166