Leo Popplewell and Antonina Suhanova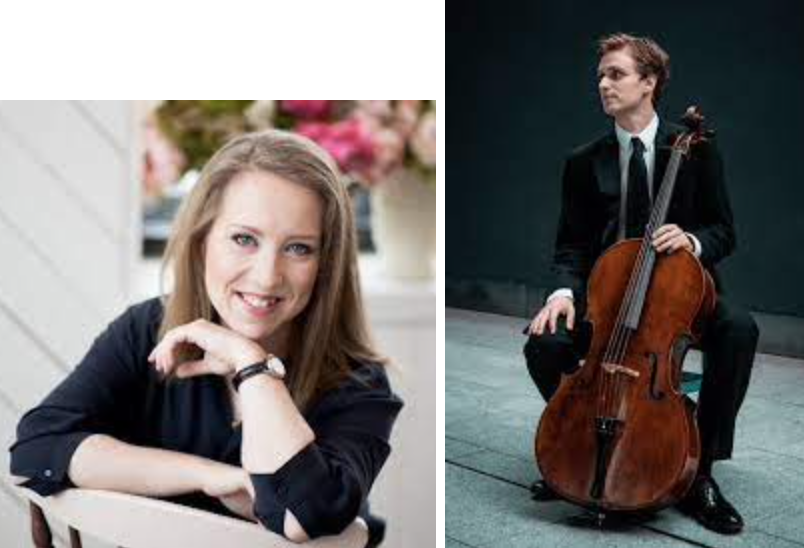 Date: 8 Dec 2021 Place: Howgills, Letchworth Time: 7.45pm
Beethoven – Cello Sonata no 3 in A major Op.69
i. Allegro ma non tanto
ii. Scherzo: Allegro molto
iii. Adagio cantabile – Allegro vivace
Debussy – Cello Sonata
Prologue: Lent, sostenuto e molto risoluto
Sérénade: Modérément animé
Finale: Animé, léger et nerveux
Rachmaninov- Cello Sonata in G minor Op.19
Lento – Allegro moderato
Allegro scherzando
Andante
Allegro mosso

Leo Popplewell studied at Clare College, Cambridge and the Guildhall School of Music and Drama.
Leo has performed in many of the world's leading concert halls, including the Wigmore Hall, Barbican Hall and Southbank Centre and New York's Carnegie Hall. He has also appeared at the Edinburgh Fringe, Barnes Music, Newbury Spring, Orpheus and Bacchus and Cambridge Summer Music Festivals, among many others. Leo has played in masterclasses for Adrian Brendel, Pierre Doumenge and Alexander Baillie at the International Cello Gathering, Brian O'Kane at the Machynlleth Festival, and for Steven Isserlis at Wigmore Hall. In 2019 he won the Coro Nuovo Young Musician of the Year Competition. He has been heard regularly on national radio, most recently performing solo and chamber works by Detlev Glanert on BBC Radio 3.
In 2017 Leo formed the Mithras Piano Trio, which won first prize at the 10th Trondheim International Chamber Music Competition and has gone on to win many other prizes. The Trio was selected as Kirckman Concert Society Young Artists for the 2019/2020 season and performed in the Queen Elizabeth Hall, Purcell Room and Milton Court Concert Hall among others. In 2019 Mithras won the Royal Philharmonic Society Henderson Award and the players were selected as BBC Radio 3 New Generation Artists for the 2021-23 seasons.

Pianist Antonina Suhanova has performed on international stages since 2000. After studies with Ludmila Kiselenko, Gunta Boža and Professor Juris Kalnciems in her native Latvia, she was admitted to the Guildhall School of Music and Drama (GSMD). During her studies, Antonina participated in numerous masterclasses of such world-renowned pianists as Vladimir Ashkenazy, Idil Biret, Pavel Gililov, Jaques Rouvier, Steven Osborne, Matti Raekallio, Richard Goode, Robert Levin and Yefim Bronfman.
Antonina has performed in venues in London, New York, Salzburg, Riga, Moscow and the Isle of Man. She has appeared as a soloist with the "Moscow Virtuosi", Tallinn and "Sinfonia Concertante" Chamber Orchestras and with symphony orchestras and other collectives, collaborating with such distinguished conductors as Andris Nelsons and Vladimir Spivakov. Antonina has performed at renowned festivals in the United Kingdom, USA, Italy, Germany, Netherlands, Latvia, Switzerland, Austria and Russia. She made her debut performance at the Barbican Hall with the Guildhall Symphony Orchestra under the baton of Adrian Leaper as a finalist of the Guildhall Gold Medal Prize in 2016. In 2018, her solo debut at the Wigmore Hall was broadcasted live on BBC Radio 3. In 2020 as the Musicians' Company prize winner Antonina made her solo debut at the Southbank Centre Purcell Room.
She is a recipient of the many major awards, including Hattori Foundation Senior Award, Making Music UK and The Philip and Dorothy Green Young Artists Award. Antonina is also a junior fellow of the GSMD.