duo b!z'art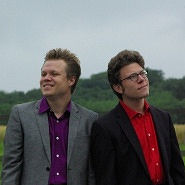 Date: 2/14/2024 Time: 7.45 pm
André Roe, Geoffrey Baptiste
A duo of pianists on 1 and 2 pianos, the duo b!z'art was founded in 2004 by Geoffrey Baptiste and André Roe after their studies, having met in the class of Professor Evgeny Moguilevsky at the Royal Conservatoire of Brussels.
b!z'art or bizarre?
Endowed with a strong artistic personality, motivated by a constant search for cohesion and precision, this duo (or rather a single person with 20 fingers?) is out of the ordinary and déjà vu… Passionate and committed musicians, Geoffrey and André like to share their love of music wherever they can take it, with great simplicity and complicity with the public.
Every year, they make numerous tours across Europe (Scandinavia, the British Isles, the Baltic Republics, Slovenia, Croatia,…) as well as in China.
Influenced by their musical tastes ranging from romanticism to 20th century music, their concerts revolve around strong and original themes (An American in Paris, Aboard the Orient Express, Tales and Legends…) combining undisputed masterpieces with unjustly forgotten works.
Alongside these recitals, they also offer musical performances where the concert is lived as a "complete" experience, combining music, theatre and visual projection, during which they ensure that the spectator lives a passionate artistic story.
In addition, they attach great importance to sharing their passion with the young and regularly propose educational concerts for children, whether in partnership with cultural institutions (cultural centres, theatres, festivals, etc.) or directly in schools.