Madeleine Pickering, violin, Julian Chan, piano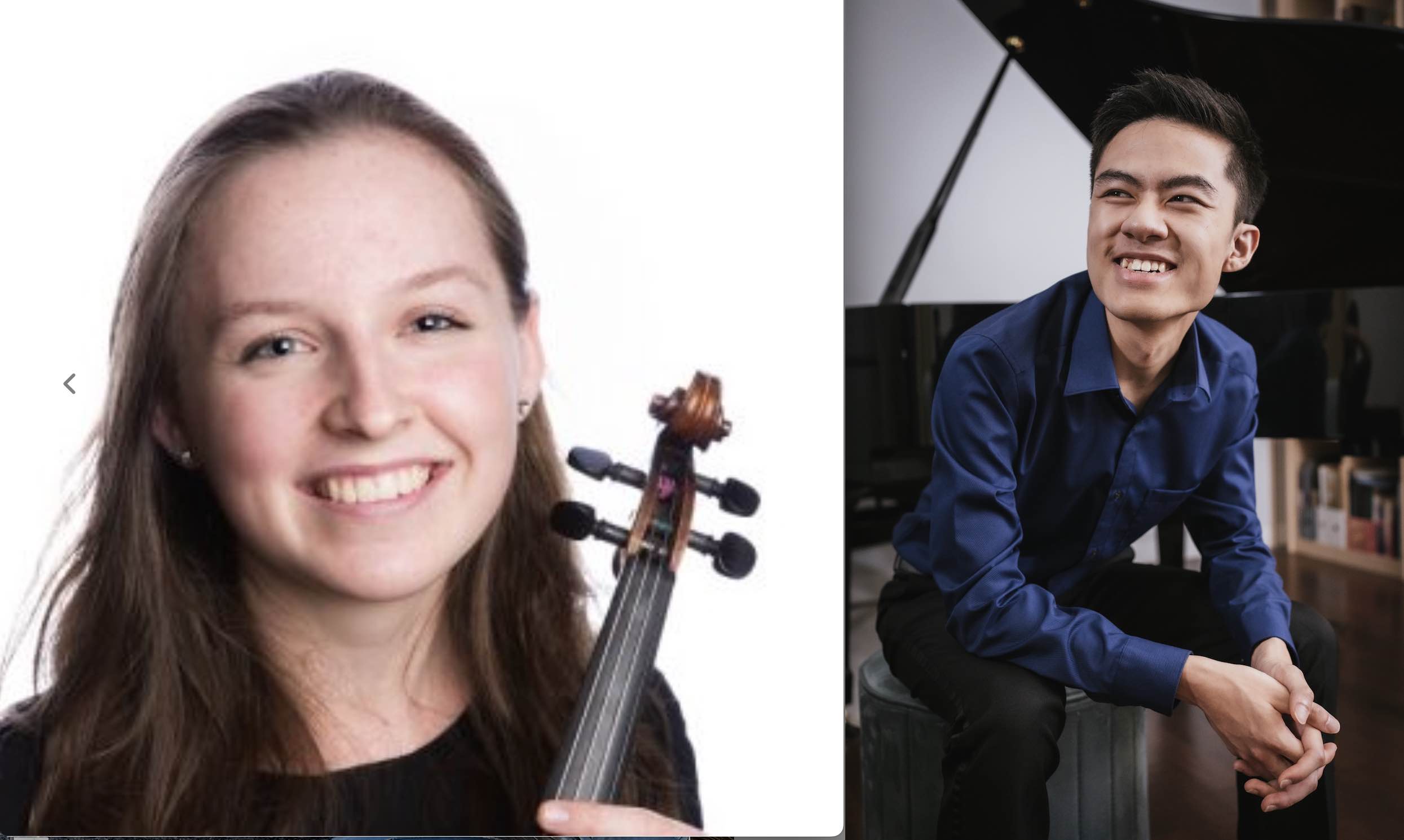 Date: 10/1/2024 Time: 7.45 pm
Bach, Beethoven, Schumann
Madeleine Pickering is a British violinist and violist. She currently holds a scholarship at the Royal Academy of Music, where she is studying on the master's programme with Maureen Smith and Tasmin Little (violin), and Martin Outram (viola).
Since co-leading the National Youth Orchestra of Great Britain in 2015, Madeleine has pursued her love for orchestral playing and leading. In 2015, she became the youngest ever leader of the Amadeus Orchestra, a position she held until 2018. In 2019 she was awarded a place on the LSO String Experience Scheme and has since worked with the orchestra professionally. She regularly leads and co-leads the Academy's Symphony and Chamber Orchestras, and has worked with conductors Trevor Pinnock, Edward Gardner and Sir Mark Elder in these projects. Madeleine particularly enjoys collaborating with emerging young conductors and soloists in small scale or single instrumentation orchestral projects and is also honing her skills in directing from the violin through self-organised projects.
Madeleine led the Florizel String Quartet from 2015-19, touring the UK and Italy and winning the Wolfe Wolfinsohn String Quartet Prize. She was invited to perform with Joanna MacGregor and Adrien Brendel in the Royal Academy of Music's Piano Festival in 2018 and has been first violinist of the Ametza String Quartet since they formed in late 2019. The Ametza Quartet was immediately accepted onto the Academy's competitive ASSET Scheme to study with Martin Outram and now give regular performances both live and online.
As a soloist, Madeleine has been particularly interested in exploring English repertoire, and this interest has extended to her chamber music and orchestral collaborations as well. Aside from concerto and recital performances across the UK, Madeleine has won first prize in the Academy's Theodore Holland Viola Prize (2016), and the Winifred Small Prize for Solo Violin (2020). She has played in masterclasses with distinguished musicians including Lawrence Power, James Ehnes, and Jennifer Pike.
Madeleine is extremely grateful for generous support from Help Musicians UK, The Rosemary Bugden Charitable Trust, Rachel and Peter Martin, and Talent Unlimited. She has been a member of the Musicians' Company Young Artists' Programme since 2019, when she received the Biddy Baxter and John Hosier Music Trust Special Award
Julian Chan
Born in Kuala Lumpur in 2000, pianist and composer Julian Chan is currently
recipient of the Steinway & Sons Award at the Royal Academy of Music, where he studies with Ian Fountain and Michael Dussek.
In November 2020, he won the Sterndale Bennett Prize at the Academy for the best
performance of a programme of early Romantic works. In July 2019, he won both the First Prize and Sonata Prize at the Nanyang International Music Competition in Singapore, and was awarded Second Prize at the Oxford Music Festival in January 2019.
Julian began his studies on piano and composition at the age of three. In 2011, he
continued his studies under the specialist music scheme at Wells Cathedral School, at which he received a full scholarship. There, he studied piano with John Byrne and composition with Paul Whitmarsh.
He has received masterclasses from many internationally renowned pianists, such as Stephen Hough, Imogen Cooper, Bobby Chen, Joanna MacGregor, Christopher Elton, Fali Pavri, and Vanessa Latarche;. Eminent composers with whom he has worked include Hans Abrahamsen, Michael Berkeley, Howard Skempton and Anna Thorvaldsdottir.
Having established a reputation as an outstanding and versatile chamber musician,
Julian has performed as part of the prestigious Manson Ensemble under the batons of maestros Ryan Wigglesworth and Jonathan Berman.
A keen composer, Julian had his first book of original compositions published at the
age of six and has had numerous works premiered by the Wells Cathedral School Symphony Orchestra and New Music Ensemble.